Dorel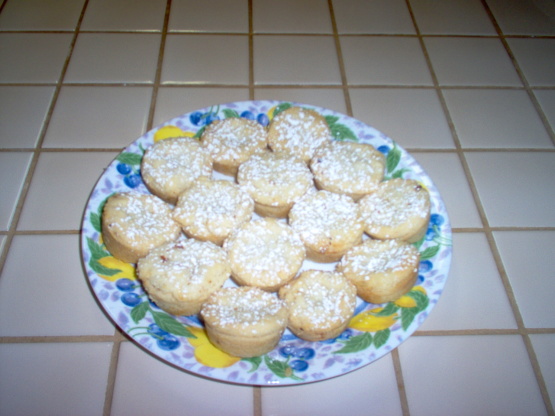 This is a great little holiday treat! Perfect for a wintery day when you want to sit back and enjoy a nice hot cup of coffee with a little something sweet. You can cheat a little if you like by replacing the 15 figs with a good quality fig jam. Omit the sugar and just add the brandy and follow the remaining directions.

Top Review by Dorel
I wasn't quite sure what you meant by "bundles", as you can see by the pictures I made 9 turnovers with some and made 18 min-tarts with the rest. I didn't peel the figs as there was nothing to peel that I could see. I usually just eat them the way they come. I did cut off both ends and then cut in half and put in the food processor along with the sugar and apricot brandy (that's the only brandy I had). I made the turnovers first and they weren't golden brown after 30 minutes so I turned the oven up to 400° for another 10 minutes.The mini-tarts I baked for 20 minutes at 400°. I used the equivalent of 3 pie crusts total. I don't think I put enough filling in each that's why it took so much pie pastry. The flavour was good and we are enjoying them. Thanks for posting an interesting recipe.
Preheat oven to 350°F.
Allow puff pastry (if frozen) to thaw 8 to 10 minutes.
In a mixing bowl mash figs with a fork.
Add sugar and brandy and mix well.
Spoon a healthy dollop of fig mixture into each center 4 inch puff pastry square.
Fold each corner of the pastry in to the center, enclosing the fig filling and pinch to seal, thus forming a square fig bundle.
Lightly brush with butter.
Bake 20-25 minutes, or until golden brown.
When cooled sprinkle with powdered sugar.