Brandied Chicken Breasts (Treasure Trove #3)
diner524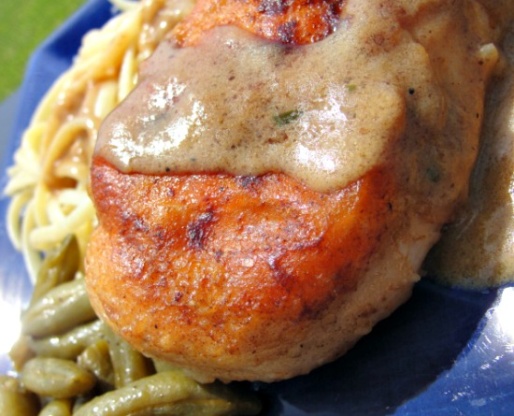 From my long-lost treasure trove of recipes newly found, but this 1 identified the source. I used to get a RECIPE OF THE DAY E-mail from ContentMail & this was the recipe for 6/22/2001! They acknowledged Jo Ann S. who said "This is a favorite at my house when company is coming. Not only is it elegant, but it's easy to prepare and fool-proof. Since the alcohol burns off during cooking, it's also safe to feed to children." I happen to think Jo Ann is right. This sounds like it would be an easy-to-fix & elegant favorite at our table too. Enjoy!
Just loved this chicken and sauce!!! I only made 2 chicken breast, but made the whole amount of sauce, as I was serving this over pasta along with some green beans. The only other thing I changed besides the number of breasts was to use low-fat sour cream, which still tasted out of this world good. Thanks so much for sharing the recipe Twissis!! Made for ZWT8.
Preheat a lrg skillet on low-heat & melt butter in it.
Meanwhile (in a shallow dish) sift together the flour, salt, pepper & tarragon. Add chicken (1 piece at a time) & dredge to coat.
Add the chicken to the skillet & cook for 10 min on ea side or till the chicken is browned.
Add the brandy & the chicken broth. Stir & then let simmer for 10 more min or till the chicken is fork-tender.
Remove the chicken from the pan & place on a warmed plate.
Add the sour cream to the skillet & stir to warm. Pour the warm sauce over the chicken & serve immediately.