Diana 2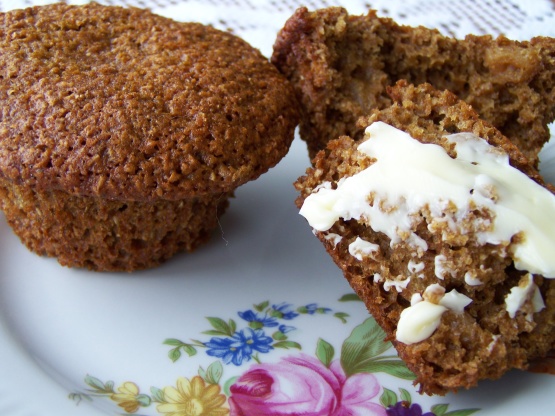 This is my alternate bran muffin recipe when I don't have sour cream on hand for Sour Cream Bran Muffins. This is also very delicious and easy to make. Found on the box of Quaker's Natural Wheat Bran.

I too have used this recipe since the early 80s and it is failproof. I mistakenly left the brown sugar out one time and they turned out fine. I never used the brown sugar again. I tend to use canola rather than shortening and that too lends itself to a nice muffin.

Another nice variation is to omit the molasses, and make the bran mixture a half and half concoction of wheat bran and wheat germ. Also very good. The variations are endless.
Preheat oven to 400*F. Line 12 muffin tins with paper liners.
Cream together shortening and sugar.
Add molasses and eggs, beating well.
Add milk and bran.
Mix together flour, baking powder, baking soda and salt. Add to the wet mixture.
Stir in raisins, if using.
Divide among the muffin tins and bake for 18 - 20 minutes.