Bran Flax Seed Cranberry Muffins
CoffeeB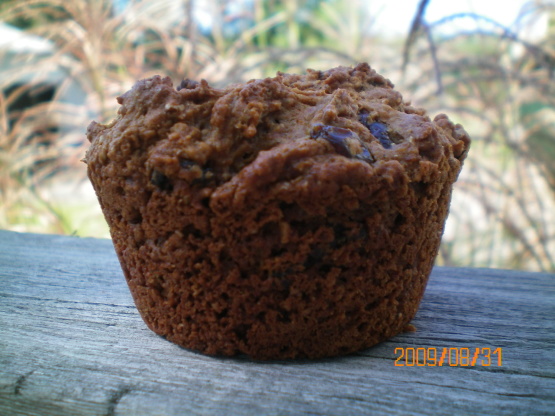 These fibre-rich nutrient-dense muffins are a healthful, delicious addition to brunch.

These make great LF/LC muffins that have just the hint of sweetness added in from the molasses. I couldn't find natural bran anywhere in our groceries here and so used 1/2 cup wheat bran in place of. Also used more ww flour than listed and cut back on the all-purpose. This made for a dryer muffin than normal and so I should have cut time back on the baking. These muffins don't raise much and so for future reviewers, if you think 1/2 cup of batter is too much for your muffin tins...it probably isn't. I didn't fill mine completely to the top and got 19 muffins. A great repeat muffin daisy. p.s...I should mention I used 1/2 cup Craisins and 1/2 cup raisins. Made for HolidayTag.
grease muffin cups or line with paper liners, and set aside.
in a bowl, stir together buttermilk, all-bran and natural bran, let stand for 10 minutes. in separate bowl, combine molasses, oil, egg and vanilla and stir into bran mixture.
in large bowl, whisk all-purpose flour and whole wheat flours, brown sugar, flaxseeds, baking powder, baking soda, nutmeg, and salt. pour bran mixture over top. sprinkle with dried cranberries, and stir just until moistened. scoop by 1/2 cupfuls into prepared cups.
bake in centre of 375*F oven until tops are firm to the touch, about 25 minutes.
let cool in pan on rack for 2 minutes. remove from pan and let cool.
Make Ahead:.
wrap separately in plastic wrap and freeze in airtight container for up to 2 weeks.