Annacia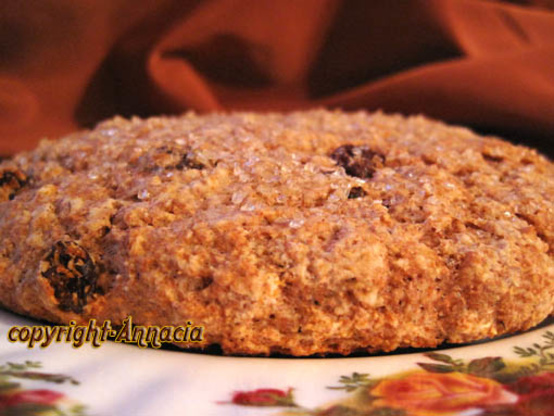 Great served with warm with a little butter and some fresh fruit - from my beloved "Breast Wishes" cookbook http://www.breastfriends.ca/

Love the flavor :D. I had a bit of a problem however, that might have been my own fault. I always use natural bran and generally look for recipes that ask for that. This looked lovely though and had to give it a try. In my case the first mix with the yogurt absorbed every molecule of moisture. I proceeded, thinking that the butter might help in the final mix. It didn't and if I was to bring it together I had to add some milk, I added 2 tablespoons and suddenly it was too wet. When you reach the stage of mixing the damp (or maybe wet if you use the cereal) resist the temptation to add more liquid. Just go ahead and knead the power and crumbles and I suspect that you'll have lovely to look at scones. Being to wet mine didn't rise as tall as I like but the taste is grand. I used 1 tsp of cinnamon in the scones, Splenda for the sugar and sprinkled the top with raw sugar. Made for ZWT 8
Combine cereal, oats, raisins and yogurt. Let stand to soften.
Combine flour, sugar, baking powder and soda, salt, cinnamon, and nutmeg in a large bowl.
Cut in margarine until crumbly, then add cereal mixture and stir until just moistened.
Turn onto a floured surface and knead 10 times or until smooth.
Flatten to a 9 inch circle or 2 x 6 inch circles. Sprinkle with sugar and cinnamon.
Place on a greased cookie sheet and bake at 425 F for 20 minutes, then cut into wedges!