Braised Turkey Legs With Wild Mushroom Stuffing
E. Nigma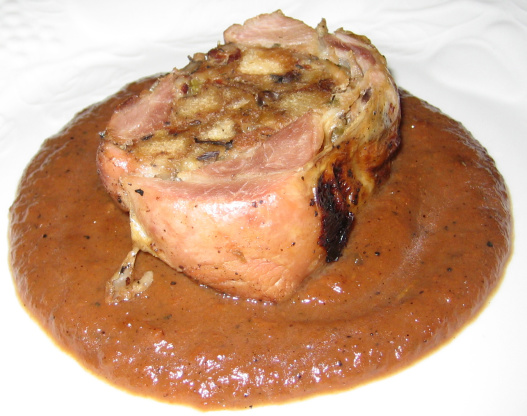 During Thanksgiving turkeys were on sale at my supermarket for less than $5, so I couldn't resist getting an extra one, and I wanted to prepare it in a different way. This is a deliciously different way to prepare turkey, created by Wolfgang Punk. Slow braising the turkey makes for a succulent result. I've recreated the recipe here, using less exotic ingredients (foie gras was originally used). The original also called for roasting the turkey breast along side the leg portions, but there was nothing original in that (you basically just roast it until it's 165 degrees internally), so I left that part out.
Wild Mushroom Stuffing

59.14

ml butter

2

loaf dried bread, crusts removed and cubed

14.17

g dried porcini mushrooms

29.58

ml extra virgin olive oil

1

large onion, chopped

226.79

g bacon, chopped

4

stalk celery, chopped

226.79

g mushrooms, chopped

236.59

ml chicken stock

14.79

ml parsley, chopped

14.79

ml sage, chopped

14.79

ml rosemary, chopped

3

eggs, beaten
salt and pepper

Turkey

2

turkey legs-thighs, halves deboned

59.14

ml extra virgin olive oil

236.59

ml chicken stock

2

carrots, peeled, sliced in 1-inch sections

3

stalk celery, sliced in 1-inch sections

1

large onion, cut in 1-inch chunks

2

sprig fresh rosemary, leaves chopped

473.18

ml pomegranate juice
butcher string
First prepare the stuffing by melting butter in saute pan. Poor over bread cubes. Set aside.
Rinse dried porcini and soak in warm water for 15 minutes Drain and chop, reserving liquid.
Heat olive oil in saute pan over medium heat and add onions, celery, and bacon. Cook until vegetables become translucent. Add porcini, fresh mushrooms, reserved mushroom liquid and stock. Cook over medium heat and reduce until almost dry.
Add vegetables to bread cubes along with parsley, sage, rosemary, and beaten eggs. Season with salt and pepper. Mix until all ingredients are incorporated.
Preheat oven to 350 degrees.
Now prepare turkey leg & thigh sections by removing bones, silver skin, and all tendons. With skin side down, cover with plastic wrap and pound out evenly. Season inside with salt and pepper.
Add 8 ounces of mushroom stuffing evenly across middle section. Roll into a tight cylinder. Tie with butcher's string. Season outside with salt and pepper. Heat a roasting pan and add olive oil. Sear meat until golden brown. Remove and set aside.
Add carrots, celery, onion and rosemary and cook until brown. Deglaze with chicken stock. Bring to a boil and add turkey. Cover roasting pan with foil and braise in oven for about 2 hours and until internal temperature is 130 degrees.
Remaining stuffing may be added to a buttered gratin dish and baked in the 350 degree oven for 30 minutes.
Remove foil and finish roasting to get color on the meat, until internal temperature is 140 degrees. Remove legs, set aside on platter, and cover with foil until ready to slice.
Add 2 cups of pomegranate juice to the braising liquid and simmer for 10 minutes then puree the sauce through a food mill or a with a blender. The vegetables will thicken the sauce. Season with salt and pepper to taste.
Slice the turkey into half-inch portions and serve with sauce.