Braised Spinach with Garlic, Onion, and Pine Nuts
Bergy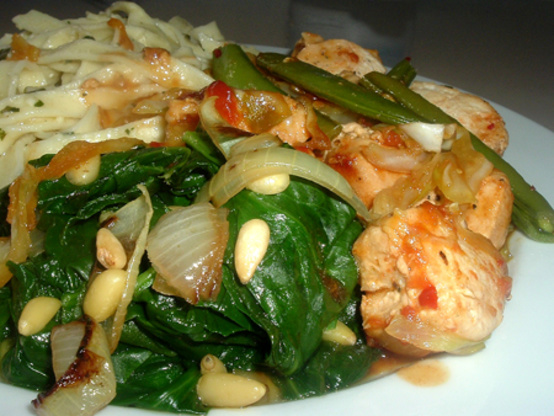 My favorite supermarket had some beautiful fresh spinach on sale a few weeks ago, and I just had to load up on it, cheap AND beautiful... who could ask for more! This is one of the ways I chose to use it.

Really delicious. I followed the recipe exactly except for using frozen, organic, spinach. Came out great. I will definitely make this again and again. Thanks for a great recipe!
Heat a large pot or Dutch oven (it has to be large to hold spinach before wilting) over medium-high heat.
Heat 1-2 Tbsp olive oil, and saute onion until translucent.
Add garlic, and continue cooking until onion just begins to brown around the edges, but garlic is not browning.
Add spinach, with just the water clinging to the leaves, adding by handfuls as the spinach wilts and makes room for more, until all of the spinach is incorporated.
If desired, drain the rendered juices from the pan before continuing.
Season with nutmeg, lemon zest and juice, salt, and pepper, to taste, continuing to toss spinach until it is just wilted, but still bright green.
Stir in toasted pine nuts, and drizzle with more lemon juice and olive oil if desired.