Peter J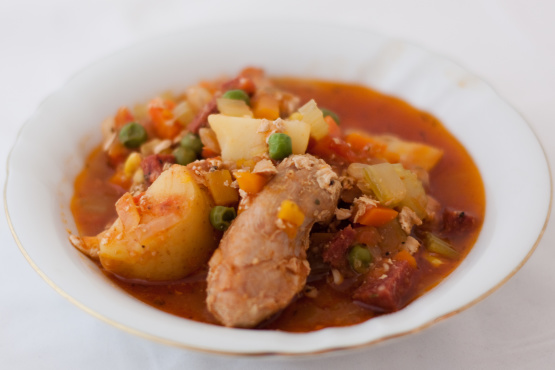 I made this for our dinner last night-it was good! The peas and potatoes made this an excellent one pot dish on a cold night.

Beautiful! I used some frozen rabbit fillets I bought recently and the only thing I changed was to use a frozen pea / corn mix rather than just the peas. I thought the chorizo was was a nice touch, along with seasoning well with pepper it gave it a wonderful tang that was great with the tomato and wine base.
Heat the oil in a large, heavy based frying pan with a lid. Add the rabbit pieces and cook over a high heat, turning until browned all over. Remove to a plate.
Add the chorizo, onion, garlic, carrot and clery and cooke over a medium heat until vegetables are well cooked (about 10 minutes).
Add the tomatoes, wine, water and thyme to the pan and bring to a boil. Return the legs to the pan and put the lid on. Cook for about 1 1/2 hours at a low simmer or until the rabbit is tender.
Add the potatoes to the pan and cook a further 30 minutes (or until almost cooked through).
Stir through the peas and cook a further 5 minutes or so.
I leave the lid off in the final 10 minutes or so to make sure the sauce is a nice consistency.
Ladle into a couple of shallow bowls and sprinkle the parsley over before serving.