Braised Pork With Fennel (Crock Pot)
Gatorbek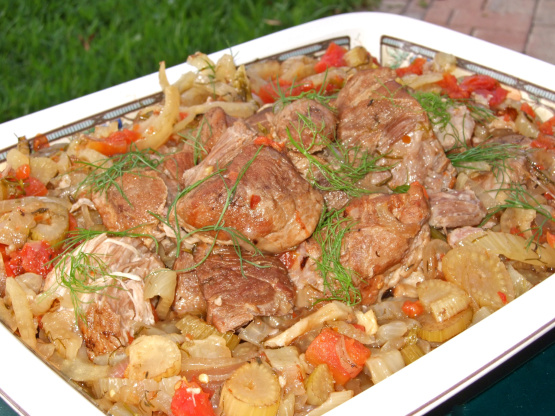 A crock pot recipe good enough for company. Diabetic friendly. Good with rice or mashed potatoes and some steamed carrots.

The pork was very tender and we liked the flavor of the fennel. I used sugar, petite diced tomatoes and since I didnt have bouillon granules I warmed the broth in the microwave and melted a bouillon cube in it. Used my cast iron skillet to brown the pork on all sides and saute the onions and fennel. Served this with mashed potatoes to enjoy the gravy with and green beans. Mike thank you for a wonderful Sunday dinner! Made and reviewed for KK"s Recipe Tag Game.
Slice off root end of fennel and discard. Slice bulb and some of the green stems and leaves. Save some of the feathery leaves for garnish.
In a large, heavy skillet, sear the pork in the oil over medium-high heat until it's brown all over, about 20 minutes. Transfer the pork to the crock pot.
Pour off all but about 1 tablespoon of fat from the skillet and reduce the heat to medium-low.
Sauté the onion and fennel until just a little golden. Transfer them to the crock pot.
In a bowl, mix together the vinegar and Splenda. Pour the mixture over the pork. Add the tomatoes.
In a bowl, mix together the broth and bouillon until the bouillon dissolves. Stir in the garlic, thyme, and red pepper. Pour this over the pork.
Cover the crock pot, and cook on low for 6-8 hours.
Remove the pork from the crock pot and place it on a serving platter. Using a slotted spoon, scoop out the vegetables and pile them around the pork. Cover the platter with foil and put it in a warm place.
Turn crock pot to high and stir cornstarch mixture into liquid and heat until thickened slightly.
Chop some of the fennel leaves and sprinkle over roast and veggies. Slice meat and serve with sauce.