Braised Pork (Tenderloin) With Mushrooms
Boomette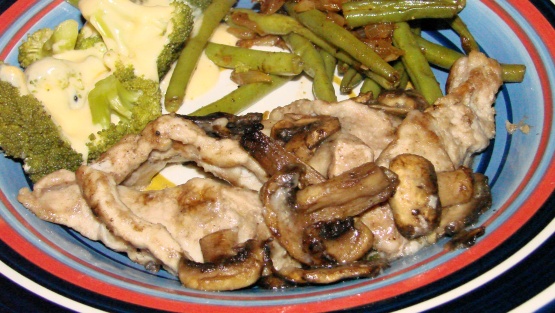 This is an outstanding recipe I found in Cooking with Herb Scents Cookbook many years ago. It smells wonderful while cooking and is very nice for company or a special occasion.
Preheat oven to 300°F.
Lightly grease 1 1/2-quart casserole.
Cut pork into 2 x 1/2 inch strips, cutting at right angle to the grain of meat.
Dredge meat in seasoned flour.
Heat oil in large frying pan over medium-high heat.
Add meat and cook until well browned.
Remove meat to prepared casserole.
Cook mushrooms in same frying pan, adding another tablespoon of oil if necessary.
When browned, transfer to the casserole.
Add chicken broth and wine to frying pan.
Scrape up any remaining bits of meat.
Add summer savory and onion.
Simmer for about 2 minutes, then pour over meat and mushrooms.
Cover and bake for about 45 minutes, or until meat is very tender.
Serve with hot cooked rice or noodles.