Derf2440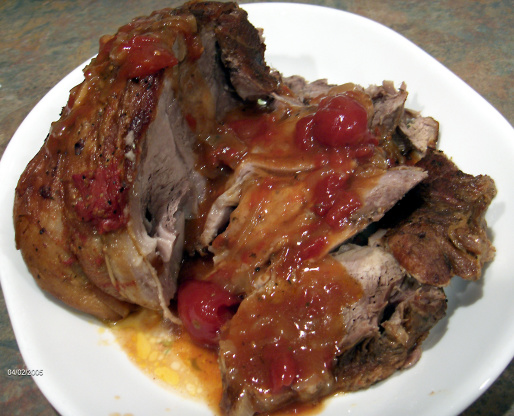 A savory, spicy pork roast. The recipe comes from a TV station.

Top Review by WinnM
This was my first time cooking pork shoulder and I'm glad I chose this recipe! It was juicy, saucy and spicy, just what I wanted to cook. The only changes I made was that I added canned chipotle in adobo sauce because I couldn't find dried chipotle. I added 3 peppers and it gave the sauce a spicy kick. I also added a can of diced tomatoes with the liquid. The roast turned out tender and almost fell apart. It was delicious. I served it with the sauce and plated it with tortillas, beans and rice. Thanks for the great recipe!
Generously salt and pepper the pork shoulder and let meat come to room temperature (about 2 hours) Preheat oven to 325°F.
Add olive oil to a large, deep pan, Over medium-high heat, sear pork until brown on all sides; set aside.
Dump excess oil from pan, leaving a coating of oil.
Add onions to pan and sweat over low heat until translucent.
Return pork to pan and add remaining ingredients.
Cover and place in oven, and cook for 2 to 3 hours (internal temperature should be about 140-150°F) or cook on stove top for 2 to 3 hours over low heat.
Remove pork from pan and let rest 10-15 minutes before slicing.
Serve with a starch and vegetables.