Braised Pork Chops With Cream Gravy
Annacia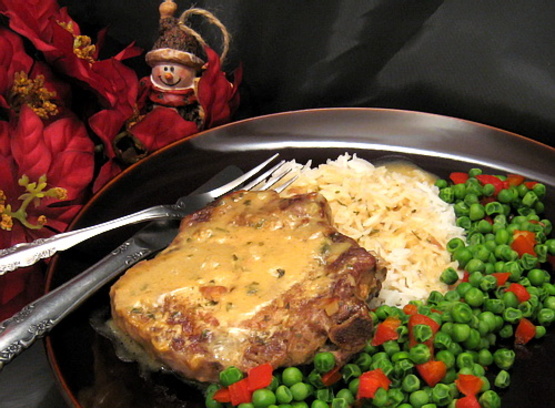 Very simple and fairly quick. However, the results are delicious. I don't remember where I got it from, but we always enjoy it. If you mash potatoes to go with it, you can also put the gravy over them.

This recipe got a 5 rating from both DH and myself. I did cook them differently in that I used the crock pot because my chops were close to an inch thick and I wanted to be sure that they were well done. Aside from that I went by the recipe and got a wonderful dinner. The chops were very tender and the gravy yummy. Oh yes, I used Penzey's Pork Chop Seasoning on the chops before cooking simply because I love the stuff. It would be hard to go wrong with pretty much any addition that you wanted to add. Fresh mushrooms would be lovely. Made for Newest Zaar Tag.
Spray skillet with non stick spray.
brown chops on both sides, then add the water and all the spices.
cover and simmer for 20 - 30 minutes until the chops are cooked thoroughly.
take the chops out of the pan, set aside and keep warm.
Combine milk and corn starch, cook in skillet until thick, stirring constantly.
Place the chops on plates and pour the gravy over them.