Boomette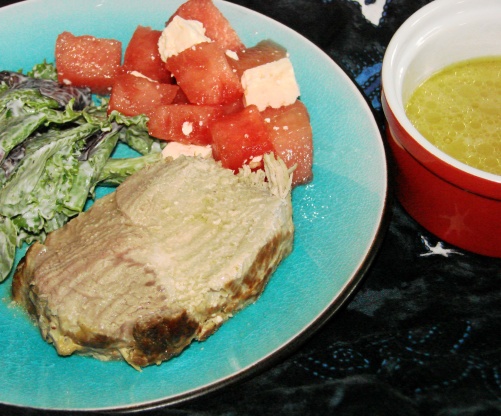 It may seem odd to cook pork in milk, but the result is rich and tender. Funny how the British have a reputation for bland food. I'd say more like "subtle" or "un-fussy." Sometimes plain cooking is just plain good cooking.
I've already saw a recipe with pork braised in milk and wanted to try it. So today when I was looking for a recipe for the pork I had, I found your recipe and then had everything to try it. It was yummy. I didn't weight my pork so I'm not sure I had the 2 pounds. It took only 1 hour. I used a meat thermometer and when it bipped, I removed it from the head. I didn't thicken the sauce. I strained it and poured it in a little bowl. The pork was tender and so good. The sage gave a great taste. Thanks threeovens :) Made for ZWT8 for Diners, Winers and Chives
1

tablespoon vegetable oil

2

tablespoons butter

2

lbs pork loin

2

garlic cloves, smashed slightly with the side of a knife

1

large onion, chopped

2

cups milk

5

juniper berries, crushed slightly

4

sprigs fresh sage, plus extra for garnish
salt & freshly ground black pepper
Heat oil and butter in a large Dutch oven or pot that will fit the pork loin over medium heat; add the pork, onions, and garlic and brown meat well on all sides for about 15 minutes.
Add milk, juniper berries, and sage; increase heat and bring to a boil.
Reduce heat to low, cover and simmer until pork is tender 1 to 1 1/2 hours, turning several times to self-baste.
Transfer pork to a serving dish and keep warm.
Increase heat, if desired and cook liquid until it is a light brownish color (it will look curdled at this point).
To serve, slice pork in thick slices and season with salt and pepper, strain liquid then season with a little salt and pepper; drizzle a little of the strained sauce over pork, garnish with fresh sage leaves and serve additional sauce on the side.