gailanng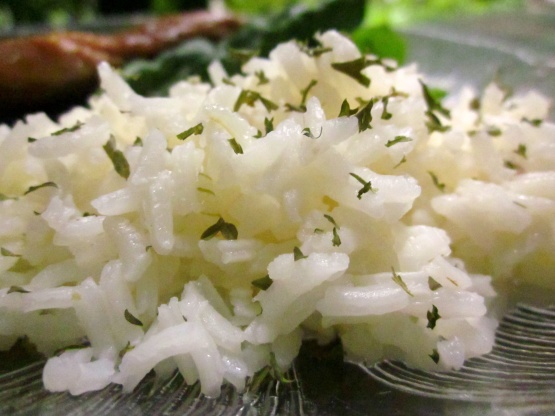 A classic recipe that I learned in college. Very simple and tasty, with plenty of variations. Great served with kebabs and grilled meats. Everybody loves this, in fact my children get excited when they see this and they are only 3 and 1!

This rice is very versatile like other reviewers have noted; I made it plain (as written) as a side dish to grilled chicken, however I only used 1 tbsp of the butter which was plenty for us. It would be too greasy for us with the full amount of butter. I don't get why this need to cook in the oven. I cooked it on the stove top which worked find, but would have cooked it in the oven to try it out had my oven not been full of chicken and bread at the time.
Place 3 oz butter in an ovenproof pan; add onion.
Cook gently without colour, 2-3 minutes, and then add the rice.
Cook gently without colour, 2-3 minutes.
Add the hot stock should be about twice the amount of liquid to rice. Stir well and season.
Cover with a lid or buttered greaseproof paper.
Place in a hot oven 230-250°C approx 20 minutes or until rice is tender.
When cooked carefully mix in the remaining butter with a fork.
For variations try mixing in some fried mushroom slices and toasted pine nuts and parsley, or peas and diced peppers or ham, or add some grated cheese just before serving.