Braised Leeks With Mustard Cream
Peter J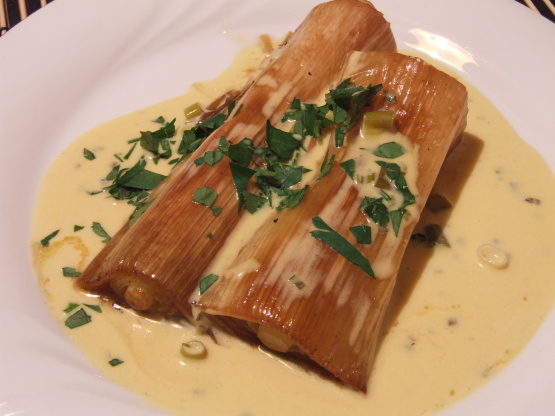 Another delicious-sounding vegetable side dish - slightly adapted - from Vicki Wild's 'Wild Sides: An A-Z of exceptional vegetable side dishes'.

This was amazing! I cooked too much and can't rememeber the last time that meant leaving the main to make sure to finish the side dish. Only change I made was I only had dried chives so used those during cooking and garnished with fresh flat leaved parsely.
Preheat the oven to 200ºC.
Spread the chopped butter and oil over the base of a roasting pan large enough to hold the leeks in one layer.
Add the leeks and roast for 10 minutes.
Remove the leeks from the oven and turn them over in the pan.
Roast for a further 10 minutes.
Remove the leeks from the oven and add the stock.
Roast for another 10 minutes or until the leeks have started to brown slightly and the stock has reduced.
Remove the leeks from the oven and keep warm on the serving dish by covering them with aluminium foil.
MAKING THE MUSTARD CREAM: Melt the remaining 50g of butter in a small sauté pan over a medium heat.
Add the shallots and sauté for 5 minutes or until softened.
Increase the heat a little, add the wine and slowly bring to the boil.
Simmer until the liquid has reduced by half.
Stir in the cream and simmer gently until the sauce begins to thicken.
Stir in the mustard.
Add half the chives and season to taste with salt and pepper.
Drizzle the leeks with the mustard cream and garnish with the remaining chives.
Serve.