Parsley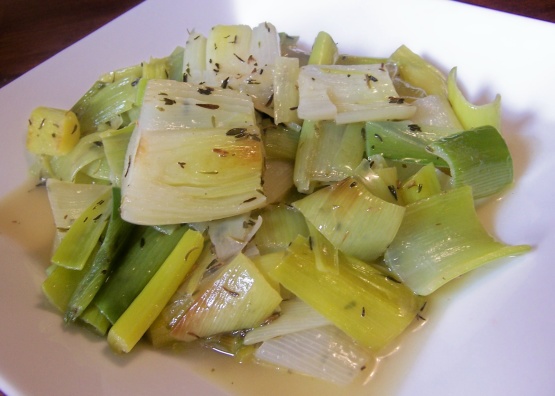 Leeks may not be a typical side dish, but this recipe has made them the most-requested side in our house. 3 WW points per serving.

I'm new to cooking with leeks. I don't know if you're supposed to use the dark outer portion, but I used the whole thing. I didn't have chicken stock so I used chicked broth instead. It was rather bland. Next time I think I will try and use water with chicken bouillon cube or broth with a cube. I also think I will add a tablespoon of Apple Cider Vinegar for a little kick!
4

large leeks, tough outer leaves discarded and trimmed to about 6 inches in length

3

tablespoons butter
1⁄2 cup chicken stock

1

teaspoon dried thyme
1⁄4 teaspoon salt

1

pinch pepper
Using a sharp knife, trim most of the roots off the end of the leek, leaving enough so that the leek remains attached at the bottom. Cut each leek lengthwise into halves and then cut each half into inch long pieces. Soak leeks in a large bowl of cool water to allow any dirt to settle to the bottom.
In a saute pan, melt the butter over medium heat. Add the leeks to the skillet. Cook the leeks, stirring occasionally, for 5 minutes.
Sprinkle with thyme and cook one minute more.
Add stock, reduce heat to medium low. Braise the leeks, covered, for about 10 minutes, or until the leeks are very tender. Season with salt and pepper and serve.