Braised Lamb Shanks With Guinness & Barley
Mandy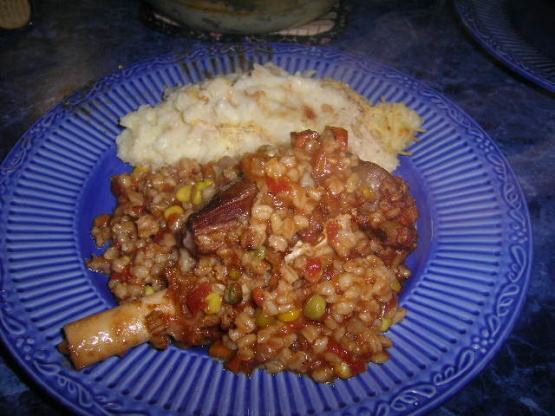 Just what I was after. I modified a wee bit, using just 2 fresh beefsteak tomatoes, large swede slices underneath the shanks & just carrot, onion & garlick for the mixed vege. Thanks for the inspiration!!
2

tablespoons flour
salt & pepper

1

tablespoon oil

400

g mixed vegetables, raw

440

ml Guinness stout
1 1⁄2 cups beef stock
1 1⁄2 cups water

1

cup pearl barley

2

tablespoons parsley, chopped
Preheat oven to 180°C Season flour with salt and pepper, then coat shanks. Heat oil in a large casserole dish. Brown shanks on all sides and remove from dish.
Empty mixed veggies into pot and heat for 5 minutes.
Add beer and stir to loosen sediment on the bottom of dish. Stir in tomatoes, stock and bring to the boil. Add barley, stir well. Return shanks to the dish.
Transfer casserole to the oven. Cook for about 2 hours, add more water if needed. Spoon onto deep plates to serve and sprinkle with parsley.