ImPat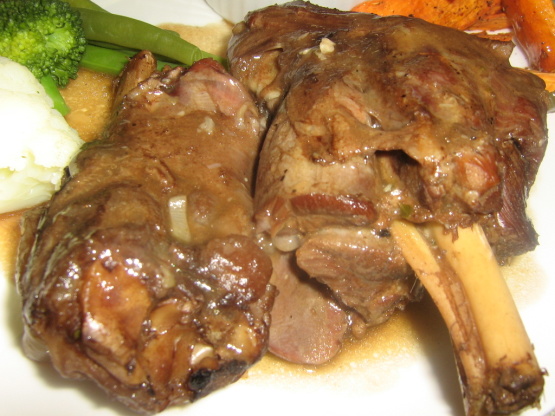 This recipe comes from a high end golf course chef. Super tasty! I make this in my crock pot after cooking all the veggies.

Top Review by ImPat
I scaled this back for 3 serves using 3 lamb shanks weighing just over 500 grams (1lb) each and were cooked to perfection in 2 1/2 hours. My only disappointment was that I coudn't get that syrupy consistency for the sauce even after 15 minutes of furious boiling to reduce so added a cornflour/cornstarch slurry to thicken which made a nice glossy gravy. The DM, DS and I thoroughly enjoyed and all that was left was bones, thank you Ceezie for a enjoyable dinner, made for New Kids on the Block.
Season lamb shanks with salt and pepper. Heat olive oil in a skillet over medium high heat and brown shanks well. Add garlic, onion and celery – cook until garlic begins to brown. Add cabernet, herbs and beef stock. Bring to a simmer. Simmer very low for 3-4 hours or until meat is fork tender.
Remove shanks for liquid. Strain and degrease cooking liquid. Reduce as desired but I suggest a syrupy consistency. Serve with the shanks.