I love the flavour of these chops. Prep time includes marinating.
Directions
Place chops in a glass dish.
Mix remaining ingredients together and pour over chops.
Refrigerate at least 6 hours (or overnight).
Put chops and marinade in an ovenproof dish and cover.
Bake in a 350F oven for 30 minutes.
Most Helpful
The sauce was tasty, but IDK about it for lamb...might try it on chicken or pork. THANKS, tho!!!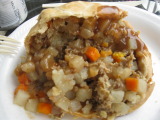 I tried this recipe last night and found the flavor intoxicating. My husband and I loved it. I served it with roasted baby yukon gold potatoes and glased carrots. Thanks, Evie
This was a great recipe! The sauce was just so sweet and really help compliment the lamb. Instead of using dry sherry (I actually ran out of it), I decided to use 1 tbsp of mirin (which also helps to add sweetness to the marinade) and 1 tbsp of water. I also crushed the garlic in my motor and pestol and then added the vinegar and sugar to it to help infuse the garlic flavor to it and then added that to the rest of the marinade. This is such a versatile marinade. I plan on trying this out on chicken wings, pork loin, etc. Thank you so much for sharing such a delicious and easy recipe!!