Braised Green Beans With Tomatoes
Boomette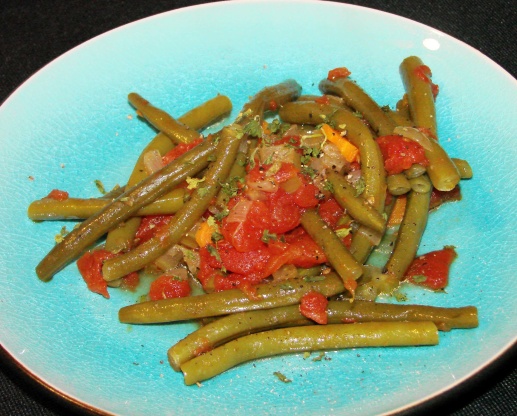 This is a simple, savory green vegetable dish. This recipe can be prepared up to three days in advance (wait to add the parsley until ready to serve). Keep the cooked beans tightly covered in the refrigerator, then reheat on the stovetop or in a 350 degree oven for about 20-30 minutes.

Excellent and simple. I have made this recipe dozens of times but without the celery and carrot. Sometimes I do use a couple of cloves of garlic, too. One thing that I truly love about this recipe is that it does not need a lot of active time - that is why I often use it for dinner parties - I have a lot of other things to do before serving the dinner. I have used both large and small tomatoes in this and prefer the smaller tomatoes which also do not need to be cut. Thanks for posting, Lainey6605, this is truly a keeper.
Heat the oil in large pot or Dutch oven over medium heat.
Add the onions, celery and carrots and saute, stirring often, until the vegetables are tender, about 4 minutes.
Add the green beans, tomatoes, salt and pepper.
Cover the pot, reduce the heat to low and cook, stirring occasionally, until the beans are very tender, about 55-65 minutes.
Stir in the parsley and season with additional salt and pepper, if desired.