Braised Greek Chicken and Artichokes
Peter J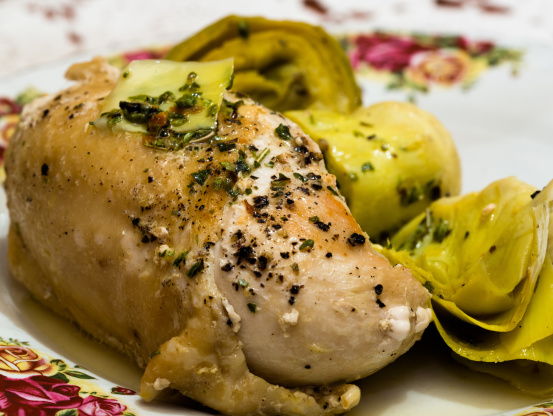 This came from an old cooking magazine, no longer noted on my copy.It is easy and uncomplicated. I followed the recommendations to accompany with orzo and baby carrots (I used Zaar Balsamic Baby Carrots - Balsamic Baby Carrots), and maybe prepared stuffed, grape leaves. It will prepare leftovers for another meal for 2.

Yum! I used a whole juiced / zested lemon (so a little more than listed) and the citrus / pepper tang went wonderfully with the chicken and artichokes. I used really large skin-on chicken breasts so gave them 15 minutes of steaming at step 5 which was spot on and left them really moist but well cooked.
Heat oil in heavy larrge skillet over medium high heat.
Sprinkle chicken with salt and pepper.
Add chicken to skillet, and saute until browned on both sides, about 10 minutes.
Add 2 Tablespoons reserved marinade, broth, lemon juice, peel, and crushed red pepper.
Reduce heat to low, cover, simmer until chicken almost cooked through, about 10 minutes.
Uncover; stir in artichokes and 2 tablespoons oregano.
Simmer until liquid is slightly reduced, and chicken is cooked through, about 5 minutes.
Stir in 1 Tablespoon oregano.
Season with salt and pepper.