Braised Fennel and Onions With Ginger
Barb G.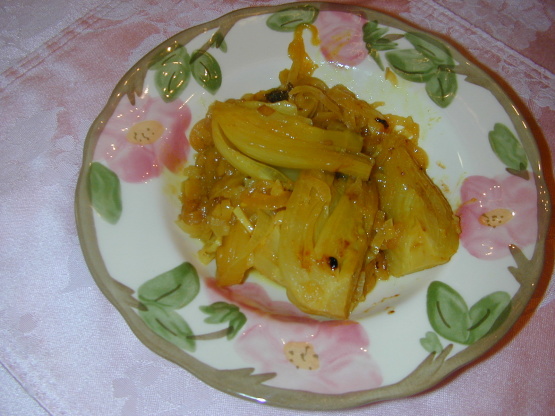 This flavorful and attractive side-dish makes the perfect accompaniment to roasted meats or to fish.
Cut the top (at the"fingers") and base of the fennel bulbs off and remove the first tough outer layer; cut each in half (top to bottom).
Cut each of the halves in half again (you've thus cut each bulb into 4 slices); now thinly slice each (top to bottom) resulting in"sticks" of fennel.
Heat the olive oil in a large lidded frying pan and saute the garlic, shallot, and ginger for about 30 seconds, stirring constantly.
Add in the fennel and the onion and mix well.
Add in the wine and water, and scatter the salt and turmeric over all.
Bring to a boil, then reduce heat, cover, and simmer 20 to 30 minutes, or until the fennel is cooked but still firm, and stirring occasionally.
Remove the cover and continue to cook 5 to 10 minutes, until the majority of the liquid has evaporated.
Serve immediately.