Bergy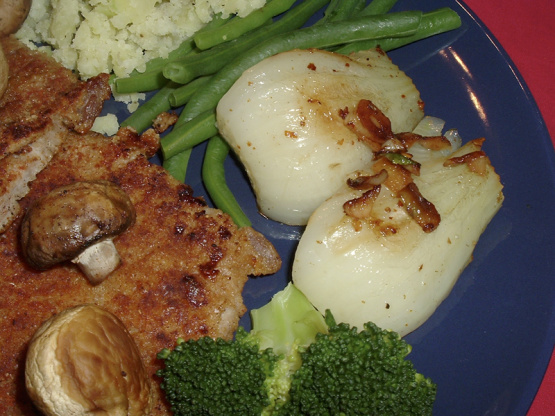 This is a good recipe. If you like licorice try fennel.

Top Review by Bergy
Top notch Fennel recipe. I steamed the quarter bulbs for 5 minutes and then continued following the recipe instructions except I only used about 2 tbsp of olive oil. The fennel was crunchy just the way I like it and the garlic melds with the licorice flavor. The pepper flakes do not take over the taste but gives it an additional boost. It does not make this "Hot" Thanks Jason Loved your recipe
Bring a large pot of water to a boil and drop in the baby fennel bulbs or quartered bulbs.
Return to a boil and cook 10 minutes, until the fennel is tender.
Drain and set aside.
In a frying pan large enough to hold all the fennel, heat the oil over medium-low heat, and add the garlic and red pepper flakes.
Cook gently until the garlic has softened.
Add the fennel and continue cooking, stirring to coat the fennel with the oil.
Cook for an additional 5 minutes and serve hot or at room temperature.