Braised Cauliflower and Tomatoes
Derf2440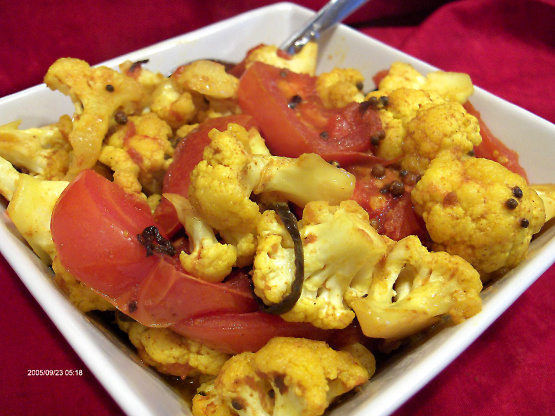 An Indian dish that is not only tasty but colorful. Turmeric gives it a bright yellow color. Goes well with fried meat, green salad and bread.

Very tasty cauliflower, we loved it and will be making it again! Made as the recipe said, except for the garnish, didn't have either in. Had a tiny bit of trouble at first with the seeds and jalepeno, I was afraid I had burned them but they didn't taste burned, they really complimented the cauliflower. Probably because I had never cooked seeds in that way. I will be making this again, next time with the proper garnish, thanks for sharing a nice change with cauliflower.
NOTE: I use one 2 inch long medium hot jalapeno, but I am not very daring when it comes to chilis.
Wash and cut cauliflower into small flowerets, about 1x2 inches. Peel ginger, cut into thin matchsticks. Cut jalapenos into thin strips. Wash and cut tomatoes into eight wedges each.
Heat oil in a large non-stick skillet over medium to medium high heat.
When hot add ginger, jalapenos, cumin and mustard, cook until mustard pops and cumin has darkened a few shades, about 1-2 minutes.
Add coriander, salt and turmeric, stir once, add cauliflower and stir-fry until cauliflower is slightly browned, about 5 minutes.
Reduce heat to low, add tomatoes and water, stir once and cover. Cook covered for 15-20 minutes until cauliflower is just tender. Shake pan occasionally to avoid sticking, don't stir.
When done, uncover and evaporate excess liquid on high heat, stirring carefully.
Serve sprinkled with herbs and garam masala.