Braised Cannellini Beans With Onions and Arugula
ChefLee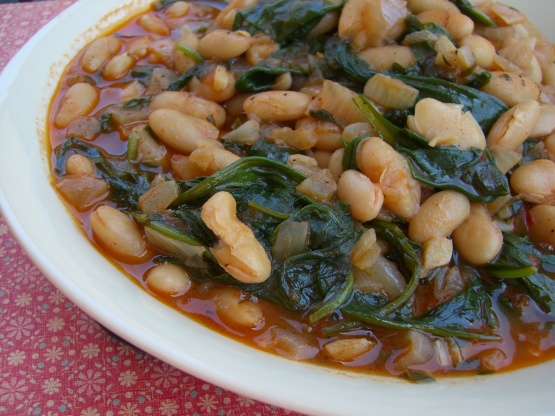 Canned beans are one of the few canned foods I really like, and I often use them instead of dried beans in soups, stews, and even salads to save on soaking and cooking time. In this easy recipe, I braise cannellini beans with onions, garlic, and a hint of tomato, and throw in arugula for an earthy flavor and silky texture.

This is excellant. The whole family loves it! My 11-yr. old licks the plate when we have this. Its hard to describe how wonderful this is. You think "beans and arugula?" It's hearty, filling and comforting, and healthy. It makes a great side dish instead of potatoes or carbs
Heat the olive oil in a 1-quart pot over a medium-high flame.
Add the garlic and cook 30 seconds, stirring constantly; the garlic should become aromatic and just lightly golden (do not burn it or it will taste acrid).
Stir in the chili pepper and cook 15 more seconds.
Add the onion and cook, still stirring, about 2 minutes, or until the onion becomes translucent and soft.
Stir in the pepper and parsley and cook 1 more minute.
Fold in the rinsed and drained beans, and then stir in the tomato paste.
Add enough cool water (or chicken broth if you happen to have it on hand) to cover the beans by 1/4 inch (about 1 and 1/2 cups, depending on the width of your pot).
Season with the salt and bring to a gentle boil, uncovered.
Cover and lower the heat to medium-low; cook for 5 minutes.
Uncover, stir in the arugula, and cover again.
Cook for another 15 minutes.
Adjust the seasoning if needed and serve hot.