Braised Beef With Caper Sauce
JustJanS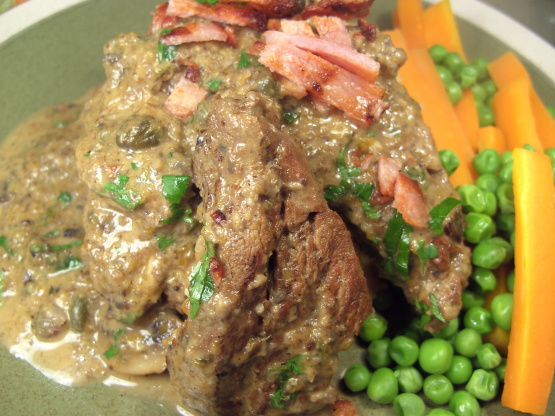 Adapted from an old cookbook.

This was fantastic thanks Ice Cool Kitty. I made a half recipe using a piece of cheap, small eye fillet so I ended up with small escallops of meat that melted in our mouths when cooked. I also used beef consomme instead of water which gave a wonderful rich flavour to the dish. Russ came home with more mushrooms than I needed, so I cooked them all then reserved a couple of tablepoons of slices to add into the finished sauce. I could eat this again tomorrow night.
Cut steak in serving sized pieces. Cook bacon in a large skillet until crisp; remove, crumble, and set aside. Brown steak in bacon drippings. Add water, carrot, celery, and bay leaf; cover and cook over low heat 1 1/2 hours, or until meat is tender, stirring occasionally.
Remove bay leaf and remove beef to a serving platter and keep warm.
Meanwhile, in a separate skillet, melt butter over medium low heat. Add onions and mushrooms and saute until tender, about 5 minutes. Add to first skillet and blend with an immersion blender or process in stand up blender.
Stir in sour cream and capers; heat through. Pour gravy over steaks; garnish with bacon crumbles and chopped parsley.