ImPat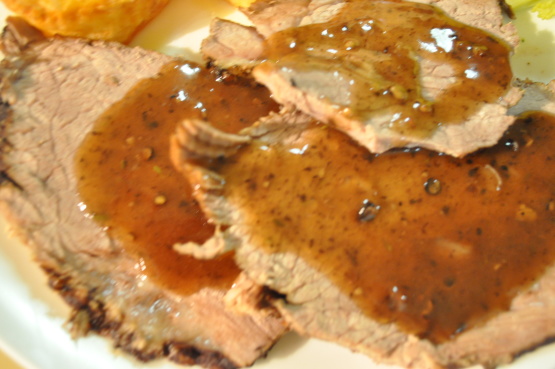 From my collection of handwritten recipes.

Top Review by ImPat
I tagged this in New Kids on the Block fully intending to make as per recipe but I made the mistake (though maybe not) of showing the DH and changes took place. First of all he hates vegies roasted in the pot with the meat (thought I could get away with it here as they were just a shorter time - not the whole cooking time). Anyway what was done was I put a little oil on top of a pocket roast and encrusted it with freshly ground mixed peppercorns (so dispensed with string), it's weight was close to 2K and for well done thought 2 to 2 1/2 hours well it was cooked to perfection in just under 2 hours). I sealed the meat (pepper side first) and proceded but after cooking the vegies (2 carrots, 1 onion quartered and some celery sticks (left overs for use in a dip), I returned the meat and put the rest of the ingredients in and cooked to well done (just under 2 hours) and kept warm under some alfoil. Removed the vegies with a slotted spoon, to make gravy, and reduced the liquid by half by boiling and then add some (about a tablespoon) corn flour/cornstarch dissolved in water to thicken - added a little at time until we got the desired thickness. The vegies will be mashed and used for bubble and squeak. Thank you CJAY, as mentioned made for New Kids On The Block.
Trim the fat from the beef. Cut a piece of kitchen string about 4 times the length of the roast and tie it around the roast at regular intervals along it's length. In a large dutch oven, heat oil over moderately high heat. Brown beef all over, turning it with a long-handled fork, about 10 minutes. Transfer to a plate. Add vegetables to the pan and saute, stirring frequently, about 7 minutes or until browned and slightly softened. Transfer the vegetables to a plate. Return roast to pot with wine, stock, herbs, and salt and pepper. Stir to blend. Cover and simmer gently, turning beef every 30 minutes, about 2 hours. Return the vegetables to the pot, cover, and continue to cook about 15 minutes or until the beef is very tender when pierced with a table fork. Discard bay leaf. Transfer the beef to a chopping board and remove the strings. Slice the meat and serve with the vegetables and pot juices.