loof751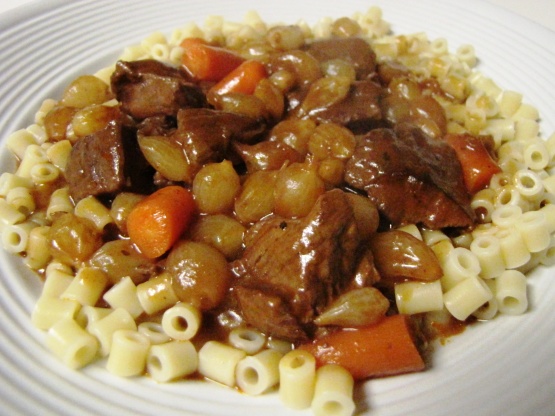 Spicy hoisin sauce blends with red wine and tomato sauce making a perfect complement to the beef and onion dinner. A recipe I found on Land O Lakes website.

The Hoisin Sauce was a pleasant surprise - and to think I have only used Hoisin in Chinese cooking until now. I used Beef Better Than Bouillon and water to make the beef broth, as I don't like wine. I did upgrade the meat to top sirloin. Hubby does not like lean meats such as sirloin, but he liked this enough to say he takes back all the bad things he has said about sirloin in the past. While eating dinner tonight, I kept thinking how good this would taste with mashed potatoes, so I will try that next. I can hardly wait for next time!
Heat oven to 325°F Melt butter in 6-quart ovenproof covered saucepan or Dutch oven until sizzling; add beef. Cook over medium-high heat, stirring occasionally, until browned (5 to 8 minutes). Add onions, wine and hoisin sauce. Cover; bake 45 minutes.
Stir flour into tomato sauce in small bowl. Add carrots and tomato sauce mixture to beef mixture. Continue baking, covered, for 45 minutes or until meat and vegetables are tender. Serve over hot cooked spaetzle or noodles of choice.
Recipe Tip
Hoisin sauce is a thick, reddish-brown sauce made from soybeans, garlic, chile peppers and spices. It lends a sweet, spicy and salty flavor to food. Look for it bottled in the Oriental food section of the supermarket.