digifoo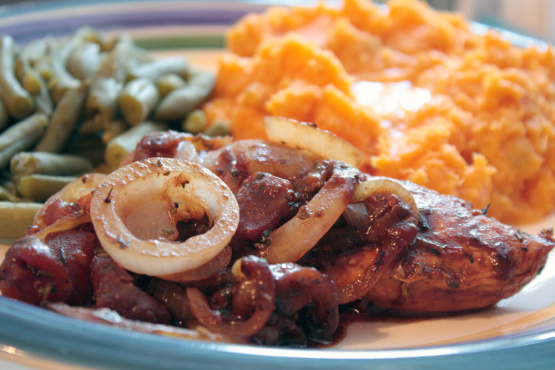 I enjoyed it. Smelled heavenly as it cooked. The other eater didn't care for it cause it was too vinegar-y. I love vinegar and didn't think it was too vinegar-y. I thought it was very herb-y. In order to make sure the herbs blended well, I used a large measuring cup to measure the vinegar, added the tomatoes to the cup, and then the herbs. I mixed it together in the cup and added that to the onions and chicken in the pan. Instead of garlic salt, I used garlic powder and salt since I didn't have garlic salt. I cooked the chicken over medium and they took a little longer than 15 minutes. This caused the sauce to reduce down which reminds me that the quality of the balsamic is very important.
Season chicken breasts with ground black pepper and garlic salt. Heat olive oil in a medium skillet, and brown the onion and seasoned chicken breasts.
Pour tomatoes and balsamic vinegar over chicken, and season with basil, oregano, rosemary and thyme.
Simmer until chicken is no longer pink and the juices run clear, about 15 minutes.