Laudee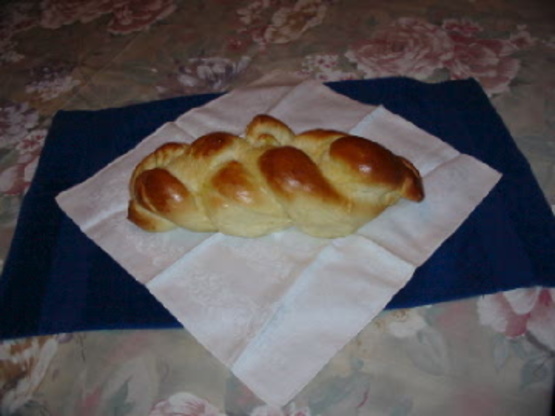 We like to make egg loaf at Easter time. This is a soft, tasty home-made bread recipe that is sure to become one of your family's favourites.

This bread is totally braidable. This is coming from someone who tried braiding a bread for the first time with this recipe. :) I too didn't add any food colouring or poppy seeds, and it still turned out great. I just brushed the top with the egg mixture as directed to give it a nice golden glossy shine to the top of the bread. Do make sure that you don't allow the egg mixture to touch the side of the pan, cos it will cause it to stick. Extremely tasty bread, a little heavy, which is good.. kept me going for quite a while without my tum tum rumbling. Do watch your mixer when the dough is being mixed up, cos my mixer did move a little during this process. :)
In a big mixing bowl, combine the 1 1/2 cups flour, and salt.
Add yeast to hot water and sugar together and when the yeast dissolves add it to the flour mixture above.
Pour in the water and beat until it's smooth.
Fold in the soft margarine, eggs and food colouring.
Add remaining flour (a little at a time) to make a soft dough.
On a floured board, knead until it's smooth and elastic.
Grease a big bowl.
Brush top of dough with melted margarine.
In a warm spot, let it rise for about 1 1/2 hours.
Punch dough down and knead it again on the floured board.
Divide the dough into two equal balls.
Then divide each ball into 3 smaller pieces and roll each of these pieces into"ropes".
Braid the ropes to form 2 small loaves.
Cover and let loaves rise until double in size.
Preheat oven to 350 degrees F.
Brush the loaves with the egg yolk mixture and sprinkle with sesame seeds/poppy seeds.
Bake for 25-30 minutes until the loaves sound hollow when thumped.