Recipe Girl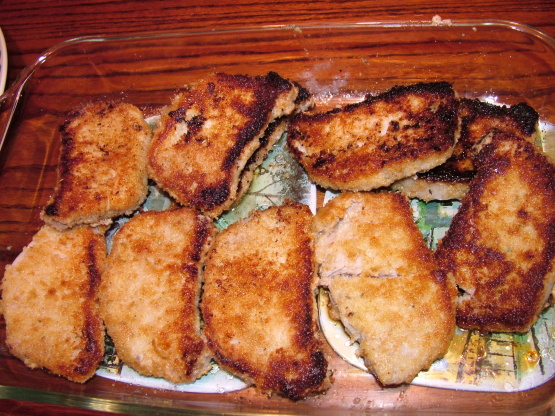 I think this recipe is an absolute gem. Really, in all my years of cooking, I don't think I have ever made chops as delectable as these! Crispy-crunchy on the outside, meltingly tender and moist on the inside. The key, I think, is the salty milk marinade/brine, and making sure not to overcook them. Thanks to Gourmet Magazine for this one.

This recipe turns out some really good chops. For me, it's best to use 1/2 inch boneless chops and marinade for 3 to 4 hours. Then I pull them out of the marinade and let them rest a few hours in a zipper bag the fridge. I think of the seasoning as a general guideline, and it varies a bit each time, but I'm careful not to overkill it with any given spice.

My cast iron skillet cooks these babies perfectly as long as I don't overcrowd them which ends up lowering the heat affecting cooking time and appearance. Three minutes or so per side does the job on a 1/2 inch chop, so I try to stick with that configuration when I make these.

I know the recipe recommends apple sauce, but I have to say a little bit of ketchup really rings my bell with these. Thanks for such a great chop idea!!!!
In a large shallow dish, like a 9x13 pan, stir together milk and first amount of salt.
Add pork chops (you could use bone-in chops, if you wish) and marinate (if you want to call it that; it's more of a milk brine methinks), covered and in fridge, for at least one hour (maximum 4 hours).
Turn chops once, halfway through marinating/brining time.
When ready to cook chops, preheat oven to 200F and have ready an ovenproof platter.
In a shallow dish (like a pie plate), combine freshly made bread crumbs (grind bread in food processor to make crumbs; you'll need about 8 slices) with garlic powder, rosemary, thyme and remaining amount of salt.
Remove chops from milk and let excess milk drip off, then dredge chops in bread crumbs, lightly patting crumbs onto both sides of chops so they adhere.
Place breaded pork chops on a tray, keeping chops in one layer.
In a large 12-inch skillet over high heat, place butter and oil.
Saute chops, 2 1/2 to 3 minutes per side only.
DO NOT OVERCOOK, do not crowd chops in skillet, and turn only once; chops should be golden brown and just cooked through.
Place cooked chops on platter and keep warm in preheated oven.
Cook remaining chops (you may have to do 3 batches, depending on the size of your pan and how many chops you do); add more oil and butter to pan if necessary (it likely will be).
I recommend serving with applesauce.