Bracha's Passover Turkey or Chicken Meatballs
Nif_H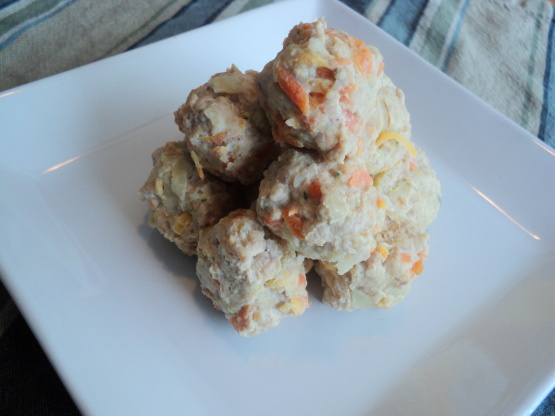 My sister-in-law Bracha's meatballs are soft and perfect in soup or sauce. They can be made Italian by adding some Italian spices (oregano, basil, parsley) or Middle Eastern by adding coriander, cumin & tumeric. But for child-friendly meatballs, we leave them as they are. They can also be made with breadcrumbs (not on Passover) instead of the potato flour, or to use up leftover potato flour after Passover.

Top Review by Nif_H
These are some tasty little meatballs! I used extra lean ground turkey and cooked them in simmering chicken broth. This recipe made 28 meatballs, using a 2 tablespoon measure. We will be using these tonight with tomato sauce on pasta but they would be good pretty much any way that you can use a meatball! Very healthy too! Made for Pick A Chef 2011 for my adopted chef GalicioBocharit. Thanks! :)
bring whatever sauce or soup you are having to a boil.
mix all meatball ingredients together.
Form balls and drop into boiling sauce/soup. If sauce/soup bubbles die down because the meatballs are cooling it down, wait until it bubbles up again before dropping in more meatballs.