Bow Ties With Sausage and Peppers
Boomette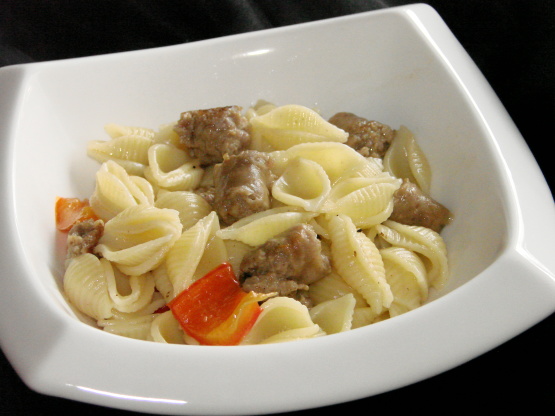 Pasta and spicy Italian sausage... can life get any better then this? Yes, but only if you end this meal with a rich chocolate dessert! We like things a bit spicy at our house, but if you prefer something a bit milder, you can always use mild or sweet Italian sausage as I'm sure the dish will turn out just as good.
I used mild veal italian sausages and a sweet red bell pepper. I used chicken broth. I used small shells. It was a great meal. Just a few ingredients but so much flavors. My son loved it. Thanks Chef Buggsy Mate :) Made for the Australian January 2011 swap
Cook pasta according to package directions.
Meanwhile, cut sausage into bite-size pieces.
In a large skillet cook sausage and peppers over med-high heat until sausage is brown.
Drain off fat.
Add broth & pepper to skillet.
Bring to a boil.
Reduce heat and simmer uncovered for 5 minutes.
Remove from heat.
Drain pasta and toss with sausage mixture.