Bow Ties With Chicken and Spinach
Rita1652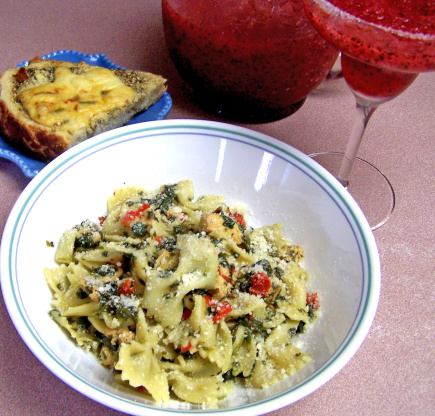 A quick, tasty, and satisfying pasta dish.

Good recipe, however I did "jazz" it up a bit, used four chicken breasts, diced, cooked two diced onions with the diced red bell pepper until the onions were browned, tossed the chicken with some flour/salt/pepper/thyme, then cooked in the pan, added the onion/peppers, added the mushrooms, then a large can of diced tomatoes, a bit of white wine and tons of spinach at the very end .

Made a cream sauce using: butter/with two cloves of garlic, then added some flour to make a rue, then added chicken stock, then added non fat half and half, cooked a bit, then added thyme, salt/pepper, cooked until it was thick and then added about a cup or parmesan cheese.
Boil the pasta until done.
Meanwhile, cook the chicken in oil over medium-high heat.
Add the onion, red pepper, garlic, salt, and pepper with the chicken.
Continue to cook and stir 5-7 minutes until chicken is almost cooked through.
Add the broth and spinach then cook until spinach is wilted and chicken is done.
Combine chicken mixture with hot drained pasta and toss well.
Top with cheese and parsley then serve.