Bow Ties or Farfalline With Tuna and Artichoke Hearts
Kitty Z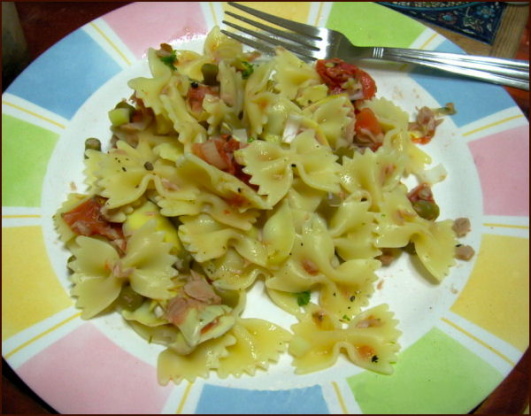 This was on a couple of Italian Cooking and Living websites and I took some from each and I made this. It was really great and a wonderful change from the usual.

I'm glad I found this recipe, as I was craving some tuna casserole, and this is much better for you. I don't really like olives so I left them out, but next time I will substitute something... I could see where the olive taste was "missing." But that was my own fault. This made a nice dinner with a bit of green salad on the side. Thanks!
Bring 5 quarts of water to boil, add salt and bowties or farfalline or any other small pasta.
Cook until al dente, about 6 minutes.
Drain and place in large bowl.
Toss with 1 tablespoon of olive oil, stir in artichoke hearts, olives, tomatoes, and string beans.
Toss well.
Add tuna crumbled with a fork.
Season with salt, freshly ground pepper, onion & garlic powder, Italian seasoning and remaining olive oil.
Toss and garnish with fresh parsley.
Serve and enjoy!