Bow Tie Pasta With Sun-Dried Tomatoes and Kalamata Olives

Tang of the tomatoes with the heat of the chile oil combines for a terrific side dish. Easy one pot cooking. Toss in some cooked chicken or shrimp for a main course meal.**
Directions
Cook pasta according to directions on package. Be sure to just cook to al dente stage. Drain and return to pot. Place pot on burner but turn off burner.
Stir in oil.
Stir in remaining ingredients and mix well.
**I have also added broccoli to pasta water while cooking pasta and this is very good too.
Most Helpful
Excellent and easy pasta dish, appropriate for a weeknight vegetarian supper. I served this with a salad. I usually like my pasta with lots of sauce. Well, this didn't have so much but was good anyway. I used a combo of sundried tomatoes and roasted tomatoes from the antipasto bar at the market as well as kalamata olives (love them). I tried to rinse off as much oil as I could, and substituted the oil called for in the recipe with vegetable broth and red pepper. BF had seconds, a sure sign of a hit! Thanks very much.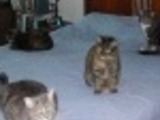 DH and I made this pasta yesterday for lunch. We loved it! Excellent flavor and easy to prepare. We added a pound of cooked shrimp to the pasta, which was very tasty. We made our own chili oil by mixing a minced thai dragon chili pepper from the garden with olive oil. Also made our own pesto for the dish and had to subsitute spiral twist noodles for bowtie. Loved the mix of the sundried tomatoes, rosemary, and kalamatas. Yum! We will definitely make this recipe again. Thanks, Vicki!

This was fantastic! I followed the recipe exactly but left out the rosemary since we don't care for it. Even my 2 year old daughter loved it. I didn't have any chili-flavored olive oil so I made some using extra virgin olive oil and mixing it with concentrated red pepper paste. MMMM....good!