Bow Tie and Pepperoni Casserole
Pamela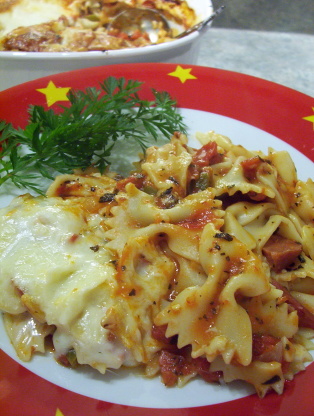 This is a really simple dish that can be made with things you have on hand or the things you like most on your pizza. I sometimes use canned tomatoes with their juices or just plain sauce. Experiment and have fun!

This is a great tasting, simple casserole. The only thing I changed in the recipe was to use canned diced tomatoes (undrained) instead of fresh tomatoes, this was just to save a little time in the prep!! I also used banana peppers, olives, and mushrooms out of the optional ingredients, turned out awesome...thanks for sharing!!
Preheat oven to 350F.
Cook noodles and set aside.
Put pepperoni in a fry pan and cook lightly until grease comes out, do not pour off grease.
Add garlic, tomatoes and the rest of the vegetables, cook for a couple minutes.
Add spices and stir around.
Put noodles in a 9" x 13" greased casserole dish.
Pour the tomatoes, pepperoni, cheese and tomato juice over noodles and stir lightly.
Cover with foil and bake for 45 minutes.
Remove foil and add more cheese if you like and bake for another 5 or 10 minutes, until cheese has browned.
Enjoy!