Boursin, Tomato and Cucumber Nibbles
flower7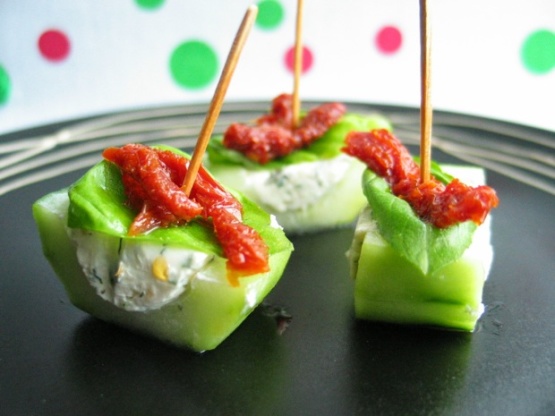 These are little bites of cucumber, cheese and sun-dried tomatoes. They are quick to prepare, but for a different presentation, you could cut rounds of cucumber and pile the cheese/basil/tomato on top. The amount of nibbles depends on the size of the cucumber, so ingredient amounts are a guide. You don't have to use Boursin, which is a soft French cheese, you can use cream cheese and in fact, the Recipezaar system wouldn't let me type in 'Boursin'. Recipe comes from my blog.

These are nice! I didn't have Boursin so used cream cheese with garlic, parmesan, dried herbs and fresh parsley mixed in. I had one 8-inch long cucumber and got about 20 pieces. The tomatoes and herbs were a great combo with the cuke. Thanks for sharing!
Cut the cucumber in half length-ways and slice a little off the bottom to make it sit flat on the plate. Note: you can peel the cucumber if you prefer or if the skin is tough - it's easier to do this before slicing in half.
Scoop out the seeds and discard them.
Fill the hollow of the cucumber with the Boursin or cream cheese, smooth top with a knife.
Cut the cucumber into bite sized pieces and top each one with a basil leaf and a tomato. Secure with a cocktail stick.
Drizzle with some of the olive oil from the tomatoes.
Chill until ready to serve.