These mushrooms are to die for. I usually serve them when we fondue. I kinda came up with the recipe myself and whenever I make them the pan ends up licked clean!
Directions
Saute mushrooms in a couple of tablespoons of butter with a little salt& pepper til cooked thru on very low heat.
In a separate saucepan melt down the boursin cake with a cup or so of the cream depending upon how thick you want your sauce.
Pour over sauteed mushrooms and serve.
Reviews
Most Helpful
These mushrooms truly ARE TO DIE FOR! The sauce is thick and creamy and sticks perfectly to the mushrooms. The flavor is FANTASTIC too! Another brilliant creation, Peeps! :)
These were the first to go at my appetizer Christmas party. My store was out of Boursin so I had to use Alouette. I also didn't add the cream because my mushroom released a lot of liquid and I just used that to thin the cheese (and saved some calories). When I am feeling decadent again, I would also serve this over pasta with some other grilled veggies (zucchini, red peppers, asparagus, etc.) thrown in. Thanks for posting!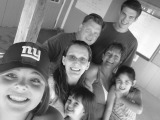 I've had my eye on this recipe for quite some time now and tonight was the night we went for it. We made the sauce exactly as directed and poured it over the mushrooms. My husband sauteed a few pieces of chicken in olive oil and we served the entire thing over Linguine. It was delicious! This is going into my tried and true folder for sure. Thanks for posting!