gailanng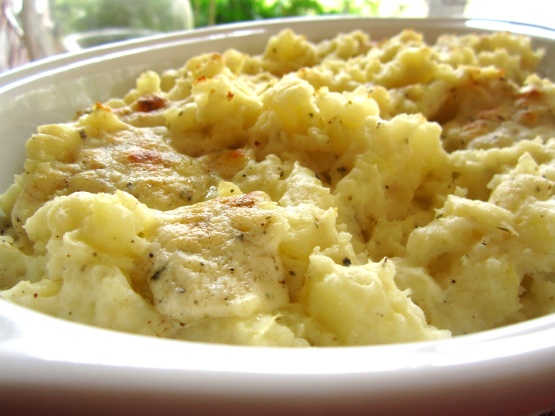 This is slightly different from the other recipes on this site. A wonderful recipe from my cooking class. (The cooking time is approximate)

I doubled the amount of boursin, cut the sour cream in half and dolloped the top with more boursin. It was OH MY GOSH GOOD and I ate too much. In place of the sign in my kitchen that commands me to, "Live, Love, Laugh", I'm replacing it with one which says, "Stop Eating".
Wash, peel and cut the potatoes into pieces. Boil in salted water until tender.
Mash and add the cheese, sour cream, the milk if needed for creaminess, and salt and pepper. Place in a large pan, top with butter slices (or cheddar cheese) and bake at 325 degrees until hot. Broil a few minutes to get the top nice a browned.