Boursin Cheese and Sun-Dried Tomato Pizza
Baz231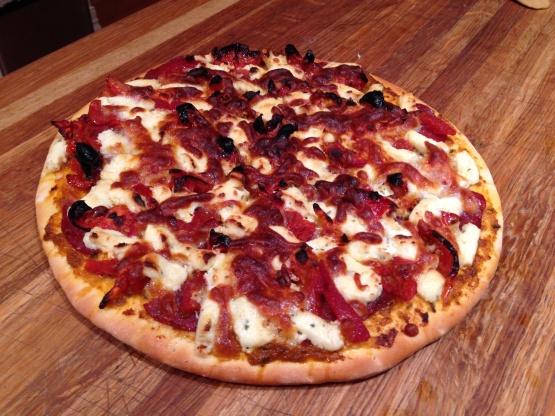 The Smokehouse in Sorrento, Victoria does an excellent Boursin pizza so I attempted to replicate it. It worked and was delicious, so here it is! They use a basil pomodoro pesto sauce but I did it the first time with just a plain basil pesto sauce. Either is fine, but I prefer the pomodoro version. I've also done it without the mozzarella, but it's better with just a little sprinkled on top. You could also substitute another cheese for the Boursin, like fetta, goat's cheese or even Philadelphia cream cheese. Awesome pizza!
Spread pesto sauce over the pizza base.
Distribute the salami evenly over the pizza.
Roughly chop the sun-dried tomatoes and peppers and distribute evenly over the pizza.
Crumble the Boursin cheese and distribute over the pizza.
Sprinkle the mozzarella sparingly over the pizza.
Transfer to the preheated Pizza Maker machine (or to a very hot oven) and cook until the crust is crisp and golden, rotating it 180 degrees half way through cooking to ensure it's cooked evenly (8 to 10 minutes).
When the pizza is ready, remove, cut into pieces and serve immediately.