Bourekakia (Baklava 'cigars')
Dasha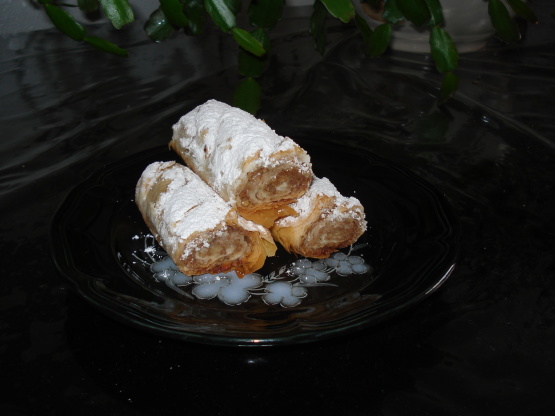 These are great and keep a long time. Not as sweet as traditional baklava as they are not soaked in syrup, merely dusted with powdered sugar. *Please note that a few of the ingredients are showing up incorrectly on the recipe page and is not fixable currently. The following amounts are what should appear: Syrup: 1 1/4 cups sugar 3/4 cup water 1 tablespoon fresh lemon juice 1 tablespoon honey (preferably, Greek Thyme) 3 cinnamon sticks 3 whole cloves Filling: 3 cups ground walnuts 1 teaspoon cinnamon 1/4 teaspoon ground cloves 2 egg whites, room temperature, beaten to consistency of mayonnaise 1 lb phyllo pastry 1 cup butter, melted icing sugar

Top Review by PanNan
I've never worked with phyllo dough, and this was the perfect recipe to practice on. Because you roll them up, it's a very forgiving recipe. It does take some time to butter and roll each one, but the results were fantastic. The exterior is flaky and buttery, and the interior has a wonderful sweet nutty flavor. Bet you can't eat just one! I did have about half of the syrup left over, and next time will cut the amount I make. This is going right into my favorite desserts cookbook.
For syrup: Cook all ingredients in saucepan over low heat, swirling pan occasionally, until sugar dissolves, then boil 15 minutes.
Cool completely; strain.
For filling: Combine walnuts, cinnamon and cloves.
Blend in 1 cup syrup and whites (mixture should not be too stiff; add up to ¼ cup additional syrup, if necessary.).
To assemble: Preheat oven to 350°F.
Cut phyllo into 5 x 8 inch strips.
Cover with plastic wrap and a damp towel until ready to use.
Take a strip and brush it lightly with melted butter.
Spread 1 heaping teaspoon of filling along narrow edge.
Fold in sides ½ inch toward center; brush sides lightly with butter; roll up tightly.
Repeat with remaining strips.
Arrange seam side down on baking sheet.
Brush with remaining butter.
(They can be frozen at this point � increase baking time to 30-35 minutes if baking them frozen).
Bake until golden and crisp, 20-25 minutes.
Cool completely.
Dust lightly with powdered sugar.