Hey Jude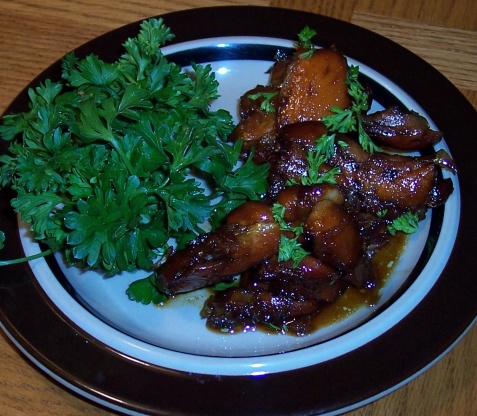 I found this recipe in the Chicago Sun-Times' 'Top 10 Recipes of 2004' but it's originally from 'The Sober Kitchen' by Liz Scott. This chicken tastes so much like bourbon chicken, though you don't need to have bourbon to prepare it. Smells wonderful while cooking! Prep time does not include the marinading time, which is up to you....several hours to overnight. The recipe calls for 8 chicken thighs, I made it with 5 thighs but kept the sauce at the same amount and ended up with lots of tasty, sticky sauce. My family liked this a lot!

Loved it! I made no changes to the recipe, only I did use just plain chicken breast. Anyhow, hubby & I thought this was just wonderful. It had great flavor. I only had to cook it for around an hour, and it was perfectly done. Thanks for posting this!
Place the chicken in a 9x13-inch baking dish in a single layer and sprinkle with the salt and pepper.
In a medium-size mixing bowl, whisk together remaining ingredients; pour evenly over the chicken; cover the dish with foil and let marinate in the refrigerator for several hours or overnight.
Preheat the oven to 325°; remove the foil and bake the chicken, basting frequently, until the chicken is well-browned and glazed, about 1 1/2 hours.