Bourbon Yams With Pecan Topping
dannhill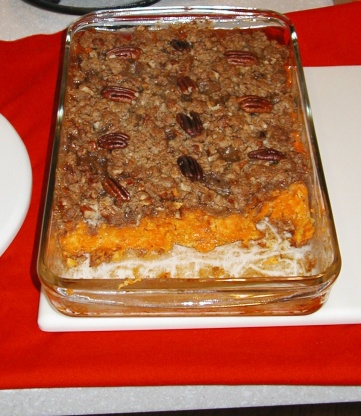 I have made this recipe for years, especially during the holidays. It has always been a hit. The pecan topping really makes the recipe. Everyone always, and I mean always asks for the recipe. Remember the last four ingredients are for the topping and not to be put into the dish.
Preheat oven to 375 degrees. Butter a shallow 2-quart casserole.
Bake the yams on an oven rack for 45 minutes, or until soft. Halve and scoop out pulp.
Mash pulp, then add eggs, sugar, butter, cream, bourbon, and vanilla. Stir well to combine.
Pour into prepared casserole.
Reduce oven temperature to 350 degrees.
To prepare Pecan Topping. Combine last four ingredients sprinkle over yams. Decorate top with whole pecans if you would like.
Bake uncovered, 40 minutes, or until heated through and top is lightly browned.