Save yourself 30 bucks from Applebee's. There's another similar recipe posted, but does not include the garlic butter or the mushroom and onion side. A message from Todd Wilbur: Menu Description: "This succulent 10 oz. Steak is jazzed up with Cajun spices and served with sauteed onions, mushrooms, garlic mashed potatoes and garlic toast." This secret to the taste of this signature steak entrée at America's largest casual chain is found in the blend of flavors in the spicy Cajun marinade. Plan to make this dish 12 to 24 hours in advance, so the steaks have time to soak up the goodness. This marinating time will also give the meat tenderizer a chance to do its thing, but don't go longer than 24 hours or the protein fibers may become so tender that they turn mushy. I used McCormick brand tenderizer, which uses bromelian, a pineapple extract, to tenderize the meat. Lawry's (Adolph's) meat tenderizer, uses papain from papayas, to tenderize the proteins, but this brand also brings other spices into the mix and will alter the flavor of your finished product. Both of these tenderizers include a lot of salt so we won't need to include salt as part of the marinade formula." One more thing, Bourbon Street is a name of a street in New Orleans, LA. There is no indication that Applebee's ever included Bourbon in the original recipe.
Directions
Combine all marinade ingredients in a medium bowl.
Pound steaks with a kitchen mallet until about 3/4-inch thick.
Submerge steaks in marinade, cover and store in the refrigerator. This is effectively done in a sealable plastic bag. Marinade 12 to 24 hours.
When your steaks have completed marinating, preheat a barbecue grill to medium/high heat. Blot steaks with paper towels to remove excess marinade. Grill the steaks for 3 to 5 minutes per side or until cooked as desired.
For the garlic butter: Melt 3 tablespoons butter and combine it with 1/8 teaspoon garlic powder and a pinch of salt; set aside.
For the side: Combine 1 tablespoon butter and 1 tablespoon olive oil in a medium skillet over medium/low heat. When the butter is melted add the sliced onion and saute for 2 to 3 minutes or until onion begins to soften. Add sliced mushrooms, salt and black pepper to pan and saute for another 2 to 3 minute or until onions and mushrooms begin to lightly brown.
When the steaks are done, spoon a couple teaspoons of garlic butter over the top of each steak and serve with mushrooms and onions on the side.
Reviews
Most Helpful
This was incredible! I have always shied away from meat tenderizer, thinking it was full of MSG, but I was pleased to read that the McCormick's (which I bought) has the bromelian instead. Alas, I couldn't find top sirloin anywhere, so I had to sub some lovely porterhouse steaks. While garlic butter and side of mushrooms and onions is delicious, the steak can stand on its own, as the marinade is so flavorful! What a delicious meal we had! Thanks for sharing.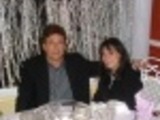 I made this last night for our dinner party with Applebee's garlic mashed potatoes (Applebee's Garlic Mashed Potatoes (Copycat)) and served it with green beans with a brown sugar glaze. The steak was absolutely phenomenal! Every single person loved it and raved and raved about how amazing it was! This is absolutely just like Applebee's. I would recommend this to anyone, and I will definitely be making this for any special occasion. This recipe is sure to impress!

Full disclosure- I didn't eat it, but my husband did. He loves the Bourbon Street Steak, so I used this recipe to make a birthday dinner. He prefers NY Strips and it worked out perfectly. He LOVED this steak. He took a bite to "test it" while I finished cooking and half of it was gone before we sat down to eat! I did not grill it, but rather pan seared it and finished it in the oven. I cut the recipe in half for the one steak. Next time I plan to up the spice level a little because his only criticism, or preference rather, was that it need a little more of a kick. I don't think he'll let me marinade steaks any other way from now on!