Bourbon Street Rice and Beans
Cynna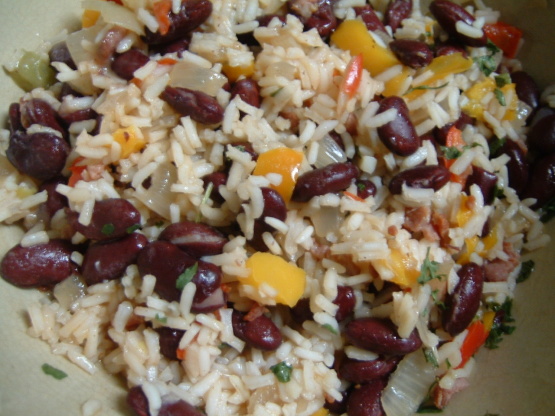 Great for Mardi Gras entertaining - got it from 2/18/06 Post Dispatch

This was easy, filling, and tasted good. I omitted the bacon (counting fat and calories!) I did not put the rice into the mix, just served the dish on top of rice. I had veg broth so I used it instead of chix broth. Omitted the salt, but used some herbs and spices in its place. Used cooked dry beans instead of cannd.
Cook diced bacon in a 3-qt saucepan over medium-high heat until crisp, stirring occasionally. With slotted spoon, remove bacon to plate.
Add onion and garlic to skillet. Cook until softened, about 5 minutes, stirring frequently.
Stir in rice; cook 2 minutes, stirring constantly.
Add broth, Tabasco sauce and salt. Bring to boil over high heat. Reduce heat to low; cover and simmer 15 minutes.
Add red and yellow bell peppers, red beans and bacon. Cover; cook 5 minutes longer or until rice is tender.
Stir in green onions and serve.