BarbryT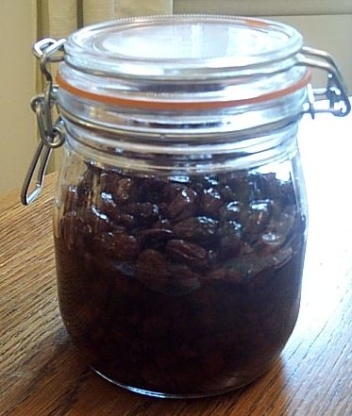 VelvetineNut asked me to post this--it's hardly a recipe and the quantities listed are estimates. The result is wonderful--plump juicy raisins that add incredible flavor to cakes, cookies, fudge, bread pudding, etc. And, there's a bonus--the resulting syrup is delicious. They keep forever and you can just keep adding raisins and/or liquor as needed. Prep time does not include the time you let the raisins soak.

Of course, I asked her to post this! I had totally no idea how to do it BUT when I heard her passing remark about it, I kept asking her for instructions until I finally got it done. It may seem a small thing but I can tell you it makes a whole world of difference! Mine soaked for about 2 months before I finally had the chance to use it in a Bread Pudding and EVERYONE raved about the pudding!! Told them about the Rum Raisins and they agreed it made the dif. Now I am going to use them whenever I can. The syrup could be stirred into your oatmeal to perk up your morning! Thanks for posting it, Chef Kate! And here are some more stars for ya **********. Oh, I used 1/4 cup of homemade vanilla essence as well as rum. Drool...;-P
Find a mason jar or other glass container with a tight-fitting lid.
Place the raisins in the jar.
Pour the bourbon (I use Maker's Mark)over the raisins--enough to cover them.
Give them a shake and close up the jar.
Let it sit in your cupboard for a few days (although after just a few hours the raisins will begin to plump), inverting the jar occasionally to make sure all the raisins are getting coated.
Voila!
For bourbon or dark rum, I suggest dark raisins.
For white rum, I suggest golden raisins.