lets.eat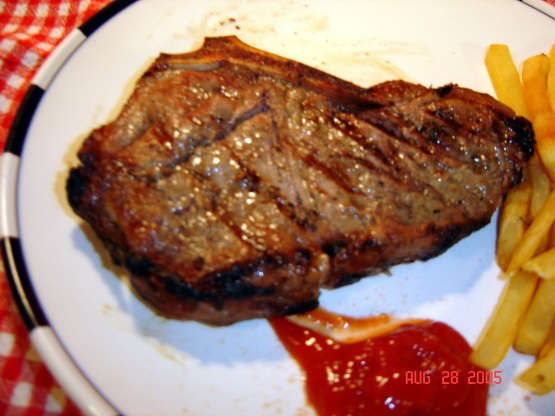 Kentucky is famous for it's bourbon/whiskey (it is two different things) and we use it for everything from curing a cough (it is GREAT and I promise I'll post the recipe)to making someone's mood a little happier. This recipe is delicious and works well on grilled beef.

We absolutely loved this, I did as you suggested and used more bourbon. For choice of steak I used NY strip. My DH couldn't stop raving over it not only for the taste, but also because this was one of the rare times I didn't over-cook the steak! Thank You Redneeck Epicurian, will be making this again!
Combine all the ingredients in a bowl. Place your meat in a zip top bag and pour into the bag. Zip up and refrigerate overnight, turning the bag every so often.
Heat the grill to med-high heat and grill as usual. Remove the meat and discard the marinade. Cook as usual.