3 Reviews
Most Helpful
Newest
Highest Rating
I "mixed" this up a bit by using Luxardo cherries and half sweet Vermouth and half dry Vermouth, garnished with Lemon twist.Use a good Bourbon....the better your ingredients are, the better your finished drink. If you like Rye whiskey use it instead of the Bourbon. You will then have a classic Manhatten. Cocktail recipes are good places to start, but most find it's all about personal taste preferences. Cheers !
Juice from the jar? Really? Unless you're using Luxardo cherries I'd forgo the almond flavoring in the mass produced maraschinos. And you forgot the essential orange flavor. My own variation uses Fee Brothers Aromatic bitters, a wash of Luxardo Marschino liquor and a good inch or so of orange peel or a dash of orange bitters. The Fee Brothers adds a subtle hint of cinnamon.
I really enjoyed this cocktail, it's a very good recipe. What more can I say...yum! Made for Bargain Basement tag game and will definately be making these again! Thanks for sharing Alan.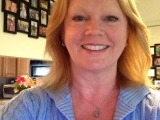 Bourbon Manhattan - a Classic Cocktail