Bourbon Drunken Upside-Down Turkey
ShoeDiva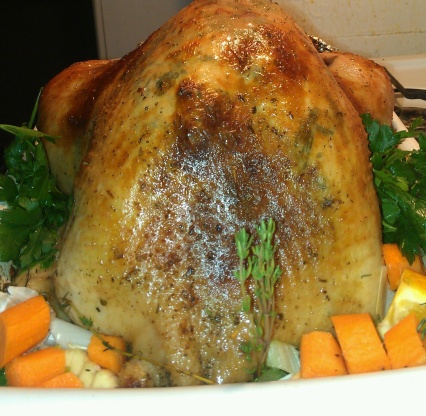 A GREAT Thanksgiving Day recipe for COOKING & MARINADING A TURKEY UPSIDE-DOWN, it has pleanty of flavor...and is SUPER MOIST!!!!...YES MOIST....this is good for those people who aren't a fan of Turkey because it's either "BLAND" or "TOO DRY"......IF YOU HAVE A FLAVOR INJECTOR OR SYRINGE THIS COMES OUT EVEN BETTER!!!!......**24-36 HOUR MARINADE TIME SUGGESTED!!!!**

This recipe takes a lot of time, but it is more than worth it. I have made about every possible variation of turkey (smoked, roasted, champagne, deep fried, etc) and none of them were as good as this one! It doesn't hurt that my family loves bourbon! This turkey smells like a rickhouse as it cooks, I was ready to go down to Bardstown after cooking this turkey. It is delicious. The meat is so moist and delicious. One variation that I did was brine the turkey prior to marinating it. I used Kirkland (Costco) brand bourbon as it is Knob Creek and it was a fine replacement for Maker's Mark (and cheaper!). My family enjoyed the turkey and appreciated the effort I put into making it. I am already preparing for this year's bird!
MARINADE PREP.
In a bowl put Cheese Cloth (you will need about 3-5 packages -- depending on the size of your Turkey) and 3-4 cups of MAKERS MARK, let Cheese Cloth soak up Bourbon.
Clean inside cavity of Turkey -- then Salt & Pepper inside cavity, and add 1 tablespoon of Herbs De Provence, sprinkle inside cavity.
Carefully seperate the skin from the Turkey Breast -- take 1 Tablespoon of Herbs De Provence and put under skin of the breast -- be sure to massage the herbs under the skin so they can spread evenly under the skin -- if your having a hard time moving the herbs around -- just take a tablespoon of Makers Mark and put it under the skin it should help the herbs spread.
Take 2 of the BOURBON SOAKED CHEESE CLOTH and stuff the inside of the Turkey -- don't pack it -- just lightly put it in place.
*NOTE: If you DON'T HAVE A FLAVOR INJECTOR -- SKIP THIS STEP* -- With a flavor injector, inject the following spots with a full syringe of BOURBON -- FLIP TURKEY UPSIDE DOWN (DO NOT INJECT TURKEY BREAST SIDE UP!) -- INJECT BOURBON IN BOTH LEGS -- and UNDERNEATH THE BREAST (try to get the needle where the bone of the breast is) -- and INJECT BOTH WINGS.
Wrap outside of Turkey with the remaining BOURBON SOAKED CHEESE CLOTH -- then WRAP the TURKEY & CHEESE CLOTH IN SARAN/PLASTIC WRAP and put in REFIDGERATOR AND MARINADE UPSIDEDOWN -- FLIPPING AND ROTATING THE TURKEY EVERY 6-8 hours -- NOTE: If you would like to inject the same spots every other time you rotate it will enhance the flavors more, but it may require an extra bottle of bourbon.
24-36 HOURS MARINADE TIME.
COOKING PREP.
Remove plastic wrap & cheese cloth -- also the cheese cloth inside the cavity -- take ALL the cheese cloth and RESOAK IN BOURBON.
Melt 1/2 cup butter -- INJECT MELTED BUTTER IN SAME EXACT AREAS WHERE THE BOURBON WAS INJECTED -- *hint* -- TURKEY NEEDS TO BE UPSIDEDOWN.
Rub Olive Oil all over Turkey -- SALT & PEPPER THE ENITRE OUTSIDE TURKEY, AND THEN LIGHTLY SPRINKLE HERBS DE PROVENCE ALL OVER TURKEY AS WELL.
Gather Garlic Cloves, Onion, Thyme, Marjoram, Rosemary, Oranges, Parsley and Sage -- Cut the Garlic Cloves & Onion in half, leaving the skin on -- drizzle with olive oil and sprinkle with salt & pepper. Cut Oranges into fouths.
WRAP EVERYTHING (Garlic Cloves, Onion, Thyme, Marjoram, Rosemary, Oranges, Parsley and Sage) IN THE BOURBON SOAKED CHEESE CLOTH AND STUFF INTO TURKEY.
Add entire stick of butter to bottom of roasting pan.
OKAY NOW COOK THE TURKEY UPSIDEDOWN -- TRUST ME I'VE MADE THE MISTAKE OF COOKING THE TURKEY BREAST SIDE UP AND ITS ALWAYS DRY.-- TENT THE ENTIRE TURKEY IN THE OVEN WITH ALUMINUM FOIL UP UNTIL THE FINAL 2 1/2 HOURS OF COOKING -- 2 1/2 hours before its done take the tent off and FLIP the TURKEY BREAST SIDE UP (the best way to do this is having 2 people maybe more depending on the size and 2 of the same size pans and place one on top of the other and flip) -- NOTE: TO GET A CRISP GOLDEN BREAST TURN UP THE OVEN AN EXTRA 125 DEGREES FOR 25-35 MINUTES.
KEEP BASTING IN NATURAL JUICES EVERY 30 MINUTES -- BASTE, BASTE, BASTE -- BASTING IS KEY!
This will be so flavorfull and juicy, your dinner guests will BE AMAZED.